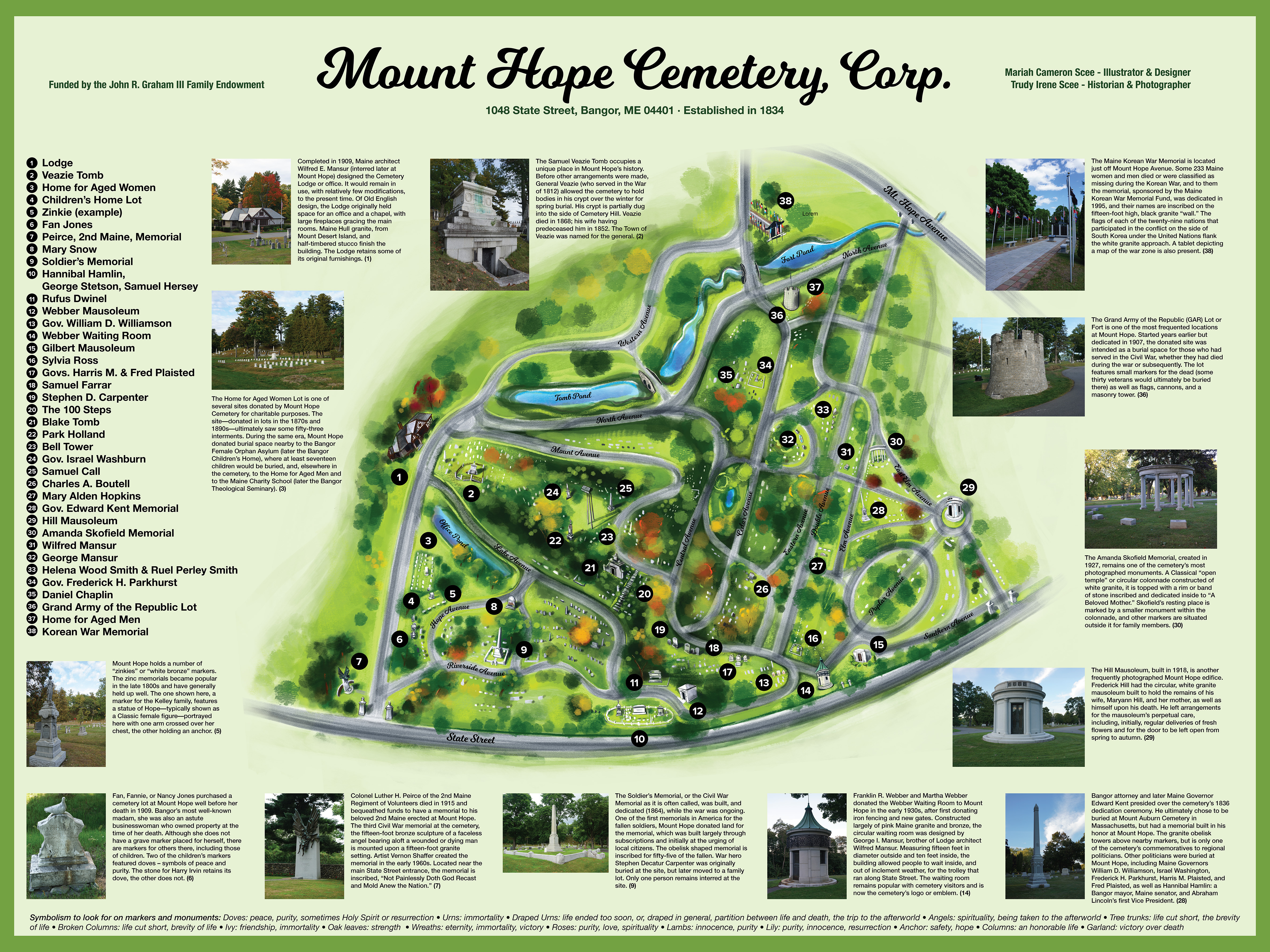 Click to download a PDF of the Map
Click to take the interactive self-guided tour
Map Key
1. Second Maine Memorial
"Not Painlessly Doth God Recast and Mould Anew The Nation" reads the inscription from one of John Greenleaf Whittier's poems entitled "Luther's Hymn" on this memorial dedicated in 1962 to the men of the Second Maine Regiment of Volunteers.
The first Maine men to see action in the Civil War, their ranks were decimated from 1,288 men in 1861 to 400 men in 1863 by ten major battles. This memorial from Luther H. Peirce, a member of the Second Maine, to his comrades in arms, shows that heroism existed but not without pain. The figure shows pain and yet the wings express glory.
2. Mary S. Snow
Born in Bangor April 1857 died New York City March 21, 1924 at 65 years. Led Bangor's education system in the 1900's as Superintendent of Schools and founder of Bangor Teachers' Training School. In 1927 a school building on Broadway was named to honor her.
3. Soldiers Memorial
Erected in the spring of 1864 to commemorate all of Bangor's Civil War dead, this monument became the first such memorial to be built in the United States.
4. Rufus Dwinel
Born 1804 died Sept. 1869 in Bangor at 65. Of all the "lumber barons" of Bangor, Dwinel did more with less capital than his contemporaries such as Samuel Veazie. Legend tells us that this sandstone sarcophagus contains this controversial and colorful bachelor of Bangor society who left a substantial amount of money to his housekeeper as long as he was buried above ground. Dwinal is actually buried below. However, his housekeeper received a large portion of his estate anyway.
5. Hannibal Hamlin
Born Aug. 27, 1809, Paris District of Maine, died July 4, 1891 while playing cards at the Tarratine Club in Bangor 2 months before his 82nd birthday. Serving as Vice President of the United States for Abraham Lincoln, Senator, Governor, Congressman and Minister to Spain, he also had 2 sons, Charles and Cyrus, who served in the Civil War. In addition, his daughter Sarah and son Charles were present at Ford's Theatre the night of Lincoln's assassination and his two wives, Sarah Jane Emery and Ellen Vesta Emery, were half sisters.
6. Waldo Pierce
Born Dec. 17, 1884 died Mar. 8, 1970 Newburyport, Mass. at 85. A renown American impressionist painter, he is also known as the American Renoir. In World War I, while serving for the French, he received the Croix de Guerre. When the United States entered the war, he served with Army Intelligence and remained in Europe after the war living in Paris, southern France and Tunis. During this period, he befriended Ernest Hemmingway and the two traveled together in Spain. His paintings have been exhibited throughout the country and are among the collections of the Metropolitan and Whitney Museums in New York and in many other galleries, art museums and homes.
7. Park Holland
Born in Shrewsbury, Mass. Nov. 19, 1752 died May 21, 1844 in Bangor at 91 years. Wife Lucy Spooner Holland died May 7, 1838. Served in the 5th Massachusetts Infantry in the Revolutionary War, came to Bangor as a surveyor in the late 1700's, his survey of Bangor, the Holland Map is still in use today. His granite monument is a gift from Massachusetts Society of Cincinnati in memory to his service in the Revolutionary War.
8. Charles Eugene Tefft
Born in Brewer Oct. 22, 1874 died Presque Isle, ME, Sept. 19, 1951 at 76. Noted American sculptor, teacher, lecturer and Brewer native, his works are the Hannibal Hamlin statue in Kenduskeag Mall, Victory in Norumbega Parkway, The River Drivers next to the Bangor Public Library and Joshua Chamberlain in the Brewer Public Library. Henry, his father, was Brewer's third mayor and his grandfather, Benjamin, the first president of Genesee College, now Syracuse University.
9. Merle Fogg
Born in West Enfield, Maine 1898 died in Ft. Lauderdale, FL May 1 1928 at the age of 29. One of Maine's earliest licensed aviators, Fogg had a part in early commercial flying and instructing. His death in Florida was the result of a terrific crash while teaching a student how to operate a WACO 10.
10. Frederick and Marianne Hill
A philanthropist whose touch turned things into gold, much of his vast fortune in banking was divided among the Bangor Public Library, University of Maine and Eastern Maine Medical Center. He gave a lot of thought to the building of his mausoleum, travelling extensively for ideas, finally finding a mausoleum that impressed him favorably in California.
11. Wilfred Mansur
Born in Bangor 1855 died Feb. 27, 1921 at 65, wife Charlotte Brown born in Bath 1856 died Bangor Aug. 4, 1916 at 59. Bangor architect designed Penobscot County Courthouse, YMCA, the gymnasium at Bangor Theological Seminary complete with a basement bowling alley, the Superintendent's building here at Mt. Hope Cemetery and numerous schools and homes in the area.
12. GAR Lot
The Grand Army of the Republic Lot is dedicated to the burial of those who fought for their country in the Civil War. So many soldiers died that the Civil War Monument plot designated in the front of the cemetery became full and another lot was designed to contain fallen soldiers. An imitation fort and several naval cannons ornament the premises.
13. Korean War Memorial
This memorial has the names of the 233 Maine servicemen who died in Korea and the 50 who were reported missing in action.
14. Al Brady
Born in Brook, Indiana 1910 died in Bangor, Oct. 12 1937 at 26. The unmarked grave of the infamous gangster and one time public enemy number one who was gunned down in downtown Bangor on Columbus Day, 1937 by FBI agents is located near here.
15. Thomas Howard
Born Aug. 15, 1741 died Dec. 9, 1827 at 86, and his wife Mary Howard born May 20, 1747 died Sept. 7 1827 at 80. Early pioneer family arriving before the Revolutionary War, April 15, 1771, and settled in the area of today's State St. and Howard St. their child Mary the first non-Native American born here.
16. Samuel Veazie
Born Portland April 22, 1787 died Bangor March 12, 1868 at 80. Some say Veazie's success was pure luck while others say he profited from the fast growth of early Maine. Whatever the reason, Samuel Veazie carved a career for himself that was paralleled by only a few of America's early industrial greats. His great fortune was amassed through shrewd business investments and careful management. He owned a bank in Bangor, eighty sawmills, real estate and thousands of acres of timberland. When he believed that the city officials were taxing his property excessively, he petitioned the State Legislature for his own town known today as Veazie.
17. Peter Edes
Born in Boston Dec. 17, 1756 died Bangor March 29, 1840 at 83. In his youth he lived in Boston where he saw the Battle of Bunker Hill where after yelling many patriotic utterances during the battle, he was reported back to the British commander and thrown into prison for a short time. Many years later he became the publisher of Bangor's first newspaper, The Bangor Weekly Register. Payment was accepted in such items as wheat, butter or cheese in lieu of the two dollar annual price. He moved to Baltimore a couple years later and then returned saying, "Had I known how affairs would have turned out with me I would never have left Bangor, and would have preferred wading up to my knees in snow."
18. George Thatcher
Born Warren Aug. 24, 1806 died Dec. 1, 1885 in Bangor at 79. Wife Rebecca Jane Billings born June 23, 1813 died Bangor Oct. 27, 1883 at 70. Often referred to in The Maine Woods by Henry David Thoreau as "the relative" who accompanied him on his trips, George Thatcher married Rebecca Jane Billings, Thoreau's cousin. Also buried near the Thatcher family are Maria and Jane Thoreau, aunts of the author and Rebecca's sister Mary Billings, wife of Charles Lowell.
19. Superintendent's Building
This building was erected in 1909 and is used for the Mount Hope Cemetery Corporation for their place of business, information and a resting place for visitors. The building is a typical turn of the century structure in the then popular English half-timbered style. Designed by the Bangor architect, Wilfred Mansur, this handsome fieldstone and stucco one and a half story building has been perfectly preserved and still fulfills its original function.
For more information, call 945-6589.